Kevin Avers and Rameen Javid of the New Rotary Club in Kabul have done it again – provided a new cultural experience for the children of the House of Flowers while also raising awareness and funds! Last year they hosted a bowling party fundraiser, and now just two days ago, on Wednesday December 11,  Rameen Javid hosted an exhibition of the children's art at his gallery in Kabul, The Galleria. Below is Kevin's email describing the evening:
"Yes we had a great turn out and the children had a really lovely time.
We started on schedule at 5pm with the children coming in over in 2 taxis, accompanied by Fahim and my friend Ibrahim. They had sent pictures over earlier during the day, and these were set up on stands on display. Rameen did a great job hosting at the Galleria with sushi, biscuits, potatoes, drinks etc laid on, some artists and musicians playing in the background, a good set up.
We needn't have worried about the number of people who would turn up, as in the end it was great, probably 30 odd came along I'd say and most made a small donation too. 
Everyone circulated, chatting, viewing the art on display and of course talking to the children. The event finished almost magically at 7 pm as planned and the kids headed back, I hope full and very happy. We gave them a set of Afghan themed playing cards each as a little token of the evening.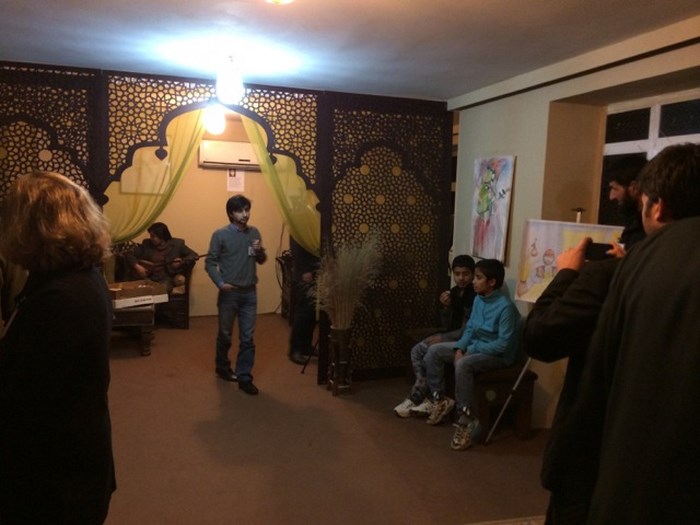 For a 'spur of the moment' event we were very pleased and we hope to do similar in the future. From the Constellation art project aspect, we did explain to people what it was all about, but the main thing is that we have a small amount of funding now to go toward materials, which is a good result.
Next stage is we'll discuss all at our Monday meeting and take it from there."
The commitment of the New Rotary Club is incredible. We are so grateful for their support as for the enrichment that they offer the children through these wonderful events!