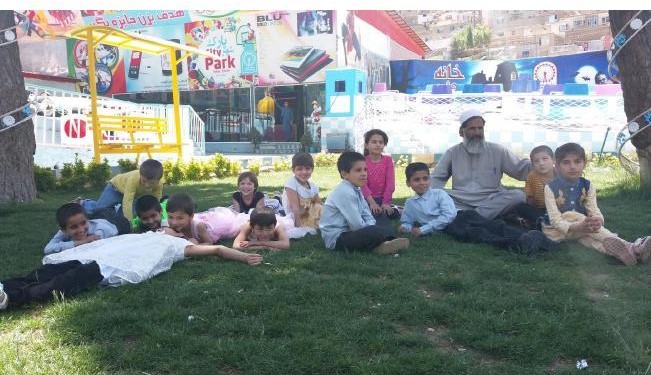 It is obvious that without the staff, the House of Flowers would not exist. These individuals, such as Nik Mohammad in the picture above enjoying a trip to the park with the children, have shown incredible patience, tenacity and dedication in their daily work at the House caring for the children, as well as in protecting the children from crises that arise and security situations in Kabul.
Whether there are issues with government ministries, bomb attacks in the city,  or heart-breaking situations with the children, the staff is always there to protect the children and act in their best interests. We have been fortunate to have relatively little turnover. This has provided the children with the stable environment they greatly need. And those new staff who do come on are quickly integrated into the philosophy and approach of the House, to ensure consistency for the children.
The staff has shown an incredible ability to absorb and integrate the new ideas of Montessori psychology  for educating and guiding the children. These approaches are often at odds with the traditional Afghan style of child care, but the staff has seen the powerful results of using the Montessori approach and have shared it with their families and others.
 Below is a gallery of scenes of the staff, past and present, doing their amazing work with the children, such as having fun in the snow, going on outings to the city museum, and enjoying the days together:
Who They Are, and How Long They've Been With the Children
Fatima – teacher  (16 years )
Basira– teacher  (3 years )
Jamila – house manager, substitute teacher (2 years )
Dr. Inayatulluh – administration (HEWAD), medical care (11 years )
Razia – teaching assistant (3 years) – This is the original Razia who grew up in the House, and has come back to be a teacher!
Nik Mohammad – cleaning, maintenance, boys' night supervision (15 years)
Amjed – guard, school escort, boys' night supervision (5 years)
Khale Rudaba – cook (7 years)
Khale Pushtun – laundry, cleaning (7 years)
Khale Lailama – cook assistant, nursery assistant, girls' night supervision (5 years)