Why Become a Member of the House of Flowers?
There is a very specific reason why we would like people to become members of MEPO and the House of Flowers: supporting the lives of children is not a one-time act. Our goal is to have consistent and steady support for the House of Flowers to ensure that the children's lives are not in upheaval the way they would be if money is tight, if the rent can't be paid on time, salaries can't be paid, etc. Just like in any other family.
This steady support can only come from the dedication of committed donors.
Therefore we would like to offer three types of memberships. These memberships entail a committment of at least 6 months. The committment can come in any form you choose: weekly, monthly, quarterly, twice yearly, annually…
Student Membership
Students, this is for you! You may wish to regularly raise funds in your school, at birthday parties, bake sales, festivals, walk-a-thons, or other creative fundraisers for your Afghan peers at the House of Flowers.
Student members will receive a monthly newsletter and updates including letters and pictures. At the end of each six months you will receive a Diploma of Thanks and a gift from the children of the House of Flowers.
 Individual or Family Membership
Individuals may wish to offer a committed donation. For example, one individual has already committed 10% of her consultation fees to the House of Flowers. Families also find it a wonderful way to work together on something. By pooling family resources, (everyone chipping in a few dollars every month) this is a great way to get your whole family involved in supporting  Afghan children in the same way you all support your own children.
You will receive a monthly newsletter and updates. Every six months you will receive a MEPO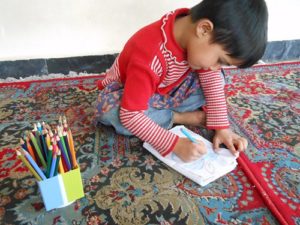 Certificate and Gift.
Schools, Organizational Membership
Schools interested in supporting the process of making Montessori education accessible to more children in needy countries can make a regular committment to the House of Flowers as part of their outreach program. The Montessori aspect of the House of Flowers makes it entirely unique in Afghanistan. Montessori schools around the world can play an enormous part by supporting the House of Flowers and its Montessori education program as well as the new expansion program taking Montessori principles into other orphanages.
Besides financial support, such schools may also wish to offer to send Montessori materials, offer support to teachers, and even consider co-sponsoring our Afghan teachers to attend conferences or trainings. Maybe someday we will even be able to have volunteers come to Kabul to volunteer at the House of Flowers. But until then…
Member schools will receive a monthly newsletter and updates including pictures and letters. They will be acknowledged in the website and other MEPO literature, and will receive a MEPO Certificate.
What does your membership money go towards?
Remember: $10 a week can go a long way…